Rusty Lee Thomas, although born on a Marine base in Cherry Point, NC, was raised in the ghettos of Bridgeport, CT. Being brought up in an atheistic home, Rusty tasted what the world had to offer at a very young age.

Street-fighting as a means of survival, soon became a way of life. Drug addiction and a "playboy" reputation followed.

Rusty became aware of God's saving grace at age 16. Visiting his relatives in New Hampshire, God met him head on in a supernatural way. This light was soon dimmed however, when returning to a home where the name of Christ could not be mentioned apart from a death threat and to a community where there were only forms of religion, but no true Biblical Christianity. Soon after this experience, Rusty's parents were divorced and he began living on his own at the tender age of 16.


Rusty Lee Thomas
At the age of 17, Rusty joined the Army. He served as a 60-machine gunner in the 101st Airborne Division for 2 years. During his service in the Army, Rusty began to abuse drugs again. As a result of a drug overdose, he ended up in jail and in two mental hospitals. The military had written his mother to inform her that he had fried his brains on drugs and would be confined to a mental institution for the rest of his life. Seemingly at the end of his rope with no one to turn to, God once again supernaturally intervened, delivering Rusty and completely restored his mind.
Since childhood Rusty had suppressed desires of becoming a professional actor. Thus after receiving his honorable discharge from the Army, Rusty decided to follow his dream and began making his way to Los Angeles, CA, to begin his training.
He enrolled at L.A. Valley College where he attended for 2-3 years. He earned his AA degree, graduating Magna Cum Laude. There he also received the Honor Chancellors Award. Rusty continued his schooling at Northridge University for one more year. During these years of schooling, he was being privately trained as well by Antonin Hodek, a mime artist from Czechoslovakia. Eventually, Rusty signed on with a manager from Colombia Pictures. His dream of working in a film career finally began to become a reality. Yet at the same time, his desire for God was growing even stronger. Through a series of compelling interventions by God, Rusty eventually died to his acting career to obey his Lord who called him into the ministry.
As a result, Rusty then became involved in the Hiding Place Church in L.A., where he was extremely active in the ministry of helps. God promoted him to lead intercessory prayer groups and street ministry teams. After 2 years of this ministry, Rusty felt this unusual leading to go to small town in Cleveland, TN. Not knowing why, he simply obeyed. There he met Dave Woodrow and was soon involved in full-time ministry. This ministry was New Life Drama Company, a drama ministry that was associated with and sent out from New Life Bible College. This company traveled around the United States, Canada and Mexico where they passed out gospel tracts, went door to door witnessing and ministered in various churches, prisons, schools, fairs and on the streets. He traveled with the New Life Drama Company for 1 1/2 yrs. when he met his wife, Liz.
The Ministry
Rusty and Liz were married on Dec. 7, 1985 and founded Elijah Ministries, which consists of teaching, preaching, writing, drama and pro-life ministry.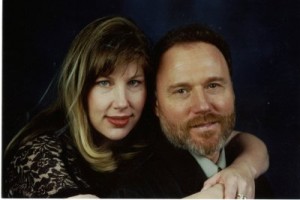 Rusty and Liz Thomas
Rusty has authored many plays, skits and gospel tracts as well as the monthly Elijah Ministries' newsletter. (see Archives section)
Elijah Ministries has started and trained several Christian drama teams that have served on the mission field in other nations. Some of the skits have been translated in different languages to reach people with the saving grace and knowledge of our Lord Jesus Christ.
Rusty pastored a church in St. Petersburg, FL called River of Life Fellowship for 2 years. He has also acted as interim pastor twice, once in College Station, TX and again in Tulsa, OK.
He has served locally since 1988, and has assisted Flip Benham, the national Director of Operation Rescue/ Operation Save America since 1994. He has also served as the March for Jesus organizer in the city of Waco for 5 years.

In 1998, Rusty established the Kingdom Leadership Institute. The vision of the KLI is to identify, equip and send forth the next generation of leaders. The KLI has been successfully established in different cities throughout America and continues to grow


Rusty preaches to the cops protecting an abortion clinic.
In Waco, Rusty and Liz are sent out from Church on the Rock. There they serve the local body and the community through various means of outreach. The most recent work has been to build Rachel's Park Memorial, a Cemetery for the Innocents and a Memorial to the Unborn.
The Family
Rusty and Liz have 10 wonderful children who serve with them in the ministry and are home schooled through the Thomas family's own University of Righteousness. The children stand faithfully with their parents on the streets and encourage other young people to do so.  They serve in the home and minister themselves through the avenues of song, dance and drama. They also minister with a dramatic sign dance/ stick dance group called Testafires. Both Rusty and Liz have taught at a home school Co-op and encourage other families in the discipleship of their children. This Co-op has performed many dramas and hosted events that reclaim America's Godly history to inform and encourage their community.
The Mission
Elijah Ministries is dedicated to impart a Biblical worldview to the Church of Jesus Christ that will provide the theological impetus to fulfill the Great Commission.
Elijah Ministries is devoted to challenging Christians everywhere to pray, believe and work for repentance, revival and reformation to sweep America.